Why do Athletes need Protective and Durable phone cases? Here Are Some Best Phone Cases for Athletes in 2021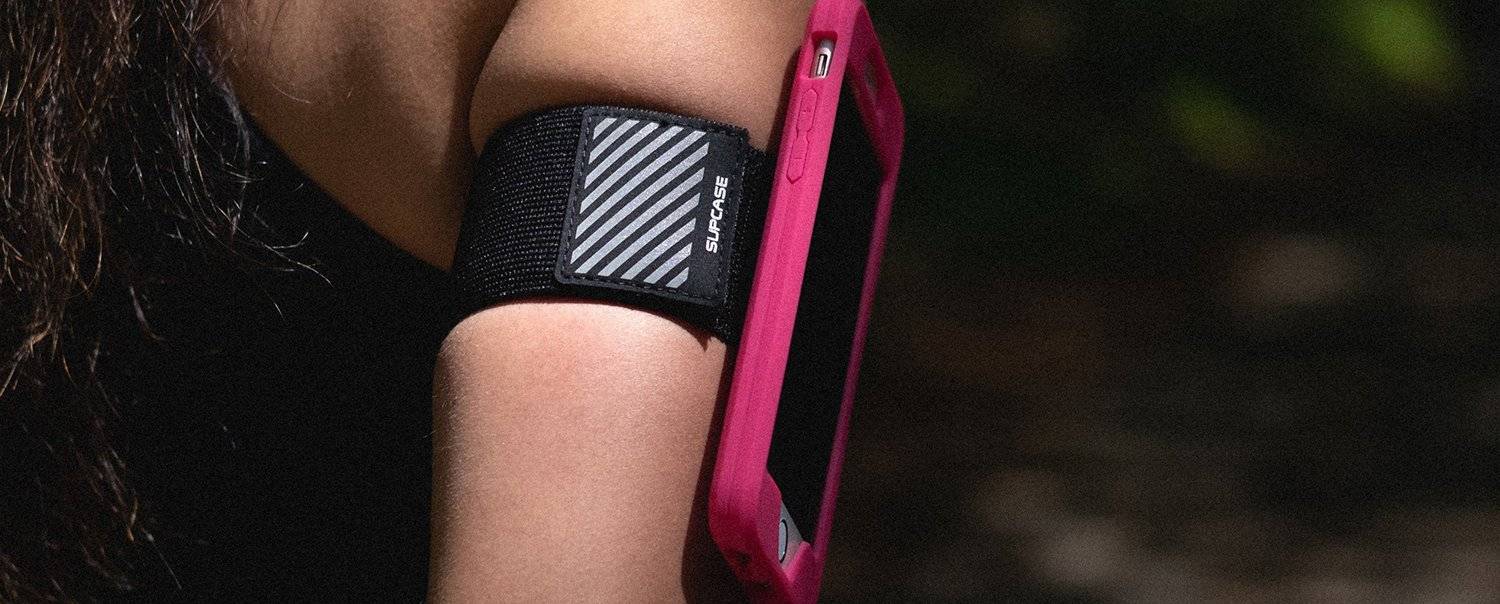 ---
Whether training indoors or running outdoors, an athlete needs their phone to:
Track performance
Take pictures on the go
Stay connected
Be alerted about unexpected weather
Whatever the need is, keeping your phone close is imperative for any athlete who prefers to have access to their favorite training and music apps. But taking your phone out with sweaty hands, on the field or on rocky terrain, can be a nightmare not to mention risky when it comes to a $1000 phone. It's always better to protect your cell phone before any close call that leaves it with a cracked screen or scratched camera lens. This is why every athlete needs a good phone case that not only provides drop protection and ease of use but also looks stylish.
Today, we are going to share a few durable and protective phone cases that deliver drop protection from heights, are anti-slip, durable, and provide maximum ease of use. But first, let's look at a few factors that make up a good and protective phone case.
1. What Makes Good and Protective Phone Cases
1.1 Compatibility
1.2 Drop Protection
1.3 Anti-Slip Grip
1.4 Screen and Camera Protection
1.5 Design Aesthetics
2. Few Best Phone Cases for Athletes
2.1 UB Pro
2.2 UB Sport
2.3 UB Maze
2.4 Running Armbands
2.5 UB Electro
3. Frequently Asked Questions
4. Wrapping Up
What Makes Good and Protective Phone Cases for Athletes


Let us now reveal few best phone cases for athletes


Athletes spend a lot of time outdoors in unexpected weather conditions, and these outdoor adventures can put their phone through hell. That's why athletes more than anybody need to keep their phones secured in a durable and protective case. Consider these factors before making a decision to buy a case that protects your phone, delivers ease of use, and still looks cool whether its one of our award-winning cases, or a generic case on Amazon.
Compatibility
The first thing to consider before buying a phone case is its compatibility with your cell phone. Compatibility ensures a perfect fit. If your phone does not fit properly in the phone case, it won't provide drop protection and ease of use. Be especially sure your phone case is perfectly compatible with your phone, with every porthole positioned at the same place as the phone with a good fit.
Drop Protection
An accidental phone drop is enough to make anyone's heart skip a beat. That is why drop protection and shock absorption are paramount to consider when buying a phone case. A good phone case with perfect drop protection is made with high quality, durable material that keeps the phone protected in unforeseen circumstances. Some of the materials used to make phone cases are:
Hard plastic (polyurethane, polycarbonate)
Silicone
Rubber
Thermoplastic
Leather
Athletes need a phone case that delivers ultimate shock absorption and always keeps the phone protected in the event of an accidental drop while in action. Check out SUPCASE for phone cases that have won CNET's first annual drop test with the highest total feet and even survived 50 ft drop tests by Everything Apple Pro.
Anti-Slip Grip
Athletes perform in unexpected places, which can make it hard for them to take out their phone and hold it with a good grip at all times. This leaves their phone extremely vulnerable to drops and damage. A good phone case should have texturized edges to help maintain a strong grip on the phone in any situation.
Screen and Camera Protection
The most important features of a phone are arguably its screen and camera. Once broken or cracked, it's no fun not being able to use your camera or staring at a cracked screen—not to mention the risk of slicing your fingers...or the expense and headache of buying a new phone, or getting it repaired. The best phone case should have raised edges to protect the screen and deep bezels to protect the camera. The deeply raised edges and bezels keep the screen and camera protected so they don't take a chance getting cracked or scratched when dropped (especially on rugged terrain). Many of our covers come as full-body cases with a built-in screen protector for an added layer of protection.
Design Aesthetics
A rugged design on sturdy material is absolutely something an athlete should go for. Always choose a design that matches your style and is easy to carry.
Other than these five factors, you can also take into consideration the multi-functions of the phone case as per your need. For example, if the case doubles as a wallet or cardholder, slim with raised buttons, compatible with wireless charging, or comes with belt holsters. But above all, an athlete should always choose a phone case that is durable, rugged, and reliable with protective and shock-absorbing features.
We've rounded up some of the best cases depending on the level of durability, reliability, and protection they offer to athletes whether outdoors on the field, in extreme weather conditions, or inside around gym equipment.
Our first pick is the award-winning Unicorn Beetle PRO, the ultimate drop-proof case that can survive 50 ft, 50 MPH, and beyond. The UB Pro is a full-body case with a built-in screen protector and kickstand. The rotating belt clip holster (included free) makes sure the phone is easily accessible and perfectly tied to your belt or bag when you are training. These cases are made with thermoplastic polyurethane (TPU) and unbending polycarbonate making them shock-absorbing, flexible, durable, and long lasting. Texturized edges ensure you can hold the phone easily.
The UB Pro is also available for your tablet, earbuds, and smartwatch to match your phone case while delivering the same reliability and protection. You can choose from many metallic and matte colors that match your style. The UB Pro is available for iPhone 13, iPhone 13 Pro, iPhone 13 mini, iPhone 13 Pro Max, Samsung Galaxy, OnePlus, LG, Google Pixel, and many more. With such durability and rugged functionality, the Unicorn Beetle PRO is your best choice at a reasonable price of $20 on Amazon.
Here are just a few of the awards and accolades the UB Pro from SUPCASE has achieved:
Wining CNET's first annual drop test with the total highest feet
15 ft drop test certified by MET Labs
50 ft drop test certified by Everything Apple Pro (twice)
Getting run over with a 1930s Ford, 1962 Chevy Nova, and other classic cars
Flung out the car window at 60 mph
Stopping a bullet (twice)
Protecting hands from an exploding battery
Surviving drops from helicopters
Surviving the lawnmower blades
Check out some of the tests done with the UB Pro case.
Made specifically for athletes are SUPCASE's lightweight and ultra-thin Unicorn Beetle SPORT cases. Not only does the UB Sport contain the same protective TPU and PC, it also includes a layer of silicone for the ultimate grip. Some models even include a built-in screen protector, and all feature raised edges to protect the screen and camera from scratches and cracks. But what makes the UB Sport the best phone case for athletes is its unique perforated design which dissipates heat to help prevent overheating.
The UB Sport looks and feels soft, but this slim and ultra-thin phone case is actually tough for outdoor adventures. Priced as low as $12.99 on Amazon, the UB Sport is a protective, durable, rugged, and reliable option for your iPhone or Samsung Galaxy phone.
The Unicorn Beetle MAZE is another rugged and protective case from SUPCASE with a sporty look. Made with a combination of shock-absorbent thermoplastic polyurethane (TPU) and polycarbonate, the UB Maze offers 360° military spec protection from drops so that you can stay focused on your form and not your phone. The full body cover has a front screen protector while the back cover features a perforated, heat-disbursing design. The UB Maze is compatible with wireless charging and has raised bezels around the camera and screen to keep them protected from damaging surfaces. The texturized material provides excellent grip on your cell phone as well.
The UB Maze is an ultra-light case with precise cutouts for easy access to charging, microphone, and speaker ports. It is one of the best cases when it comes to functionality, durability, drop protection, enhanced grip, and reliability. Currently, SUPCASE offers this case in black and purple colors.
Running armbands are a must-have accessory for any athlete. Using armbands, you can easily access your fitness and music apps, messaging, and even calls without having to unzip your phone from a pocket or fanny pack. SUPCASE's running armbands are lightweight, breathable, and highly functional with easily accessible ports. Made with flexible silicone material and fitted with an adjustable Velcro strap, these running armbands are non-slip and sweat-absorbing so that your phone remains safe against moisture. The reflective strips on the strap are great to use in low-light settings. These running armbands can be hand washed and used as a case too after removing the strap.
The armbands are a great way to stash your cell phone or keep it close while training. These armbands are available for Apple iPhone 7, 8, and SE, Motorola, LG, HTC One, Samsung phones, and more.
The UB Electro is one of the most stylish phone cases to offer military spec shock absorption and protection from accidental drops. The built-in screen protector and raised bezels on the sides protects the touchscreen from coming in contact with damaging surfaces, while the camera is protected from scratches. The TPU material absorbs shock, while the unbending polycarbonate resists scratches. Outside this densely protective material is an electroplated coating that looks metallic and feels luxurious. The UB Electro even supports wireless charging as well.
This super rugged yet stylish case is available for Apple iPhone 11, iPhone 11 Pro, iPhone 11 Pro Max, and iPhone XR starting at just $16.99 on Amazon.
Check out this review for the UB Electro by TechOdyssey to learn more.
Those are a few best phone cases for athletes based on their durability, performance, and reliability with respect to drop protection, shock absorption, style, and aesthetics. Let us now discuss a few FAQs you might have with your existing phone case or the one you are looking to buy for your new phone.
Frequently Asked Questions


How to install and uninstall SUPCASE's UB Pro?
Installing the award-winning UB Pro case is very easy. Start by separating the back cover from the front screen protector from the divot in the bottom right corner using your fingernails, a coin, or anything that can separate the dual-layer case without damaging it. Next, snap your phone under the front cover frame and then insert the front frame and phone into the back cover, carefully ensuring the bumper wraps around the entire front frame securely. Next, check that the ports and everything line up to ensure proper installation. Your tough and heavy-duty case is now ready to use and protect your smartphone.
Uninstalling the UB Pro works the same as installing it, except backwards. Start peeling off the back cover from the front frame, starting at the divot in the lower right corner of the front of the case. Continue until both pieces are completely separated, then simply snap off the phone from the front frame.
How to troubleshoot the fingerprint scanner on Samsung Galaxy S20, S20+, and S20 Ultra before installing the UB Pro with fingerprint sensor?
Clean your S20 with a dry cloth
Set up your fingerprint on your Samsung Galaxy per the manufacturer's instructions
Turn on touch sensitivity
Install the front cover
Firmly rub the touch sticker and align the screen protector with the fingerprint scanner
Check if the fingerprint sensor on the UB Pro works perfectly
Lastly, insert into the back cover and your tough case is now ready to use with the fingerprint scanner on your Samsung Galaxy smartphone
Check out this step-by-step tutorial on how to install the UB Pro for Samsung Galaxy S20 phones.
How protective are clear phone cases?
Not all clear cases are created equal. Most are thin and flimsy and may not even contain protective materials like TPU or PC, unlike the Unicorn Beetle STYLE from SUPCASE which is 15 ft drop test certified by MET Labs. And unlike phone cases from SUPCASE, if they contain silicone they tend to fade and turn yellow over time. Check out our blog to know how to clear phone cases that turned yellow. If you're looking for clear cases that provide real protection, always check for superior quality material that absorbs the shock and resists scratches.
What should I look for when buying a phone case?
Athletes train and perform in unpredictable locations and environments, leaving their phones vulnerable to accidental drops that result in cracks, scratches, or even breakage. The most important feature they should look for in a phone case is its potential to absorb the shock and protection from accidental drops. As the winner of CNET's annual drop test, the UB Pro from SUPCASE is hands down the most reliable protective phone case for athletes.
What is the most protective phone case material?
There are many materials companies use to make phone cases. Some of the materials are:
Plastic (or polycarbonate)
Leather
Silicone
Carbon Fiber
Metal
Wood
The material usually correlates to how protective the case is against shocks and drops. But material alone cannot save your phone, and the sad truth is there is no material that is "the best" phone case material. It really comes down to design and how the case company engineers their covers with these protective materials that determines how much impact they can take before the shock reaches your device.
Some athletes prefer leather, while others like silicone depending on their tastes and perceived needs. SUPCASE's cases are almost always made with a delicate blend of thermoplastic polyurethane and polycarbonate, allowing them to achieve military shock specification standards in a relatively slim profile.
What are hybrid phone cases?
Dual-layer cases with front and back covers are often considered "hybrid cases". These cases are thin and lightweight but offer very high protection, owing to the TPU and polycarbonate material they are made with. Most of our cases are dual-layer with front and back covers and therefore considered hybrid phone cases.
Which is the most protective phone case?
For athletes, the most protective phone case is the one that delivers excellent drop protection with shock absorption, is highly durable, reliable, and long lasting. The award-winning UB Pro is considered the most protective phone case, having been tested under more extreme conditions than any other case, with deeply raised bezels, enhanced grip, and materials that won't stretch out or loosen over time. The built-in kickstand doubles as a ring holder, and the free belt holster that's included can keep your device clipped securely to any strap, providing even more security than any other case. Other cases from SUPCASE like the UB Sport and UB Maze feature the same materials and engineering, giving you more protection than you'd expect from a case at a similar price point.
Are phone cases worth it?
Cases protect our expensive phones from unexpected damage and repair. SUPCASE cases are highly functional cases with the best protection from accidental drops, all for way less than the $30 similar cases start at, which is probably the best deal you can find on a reliable, drop-proof case.
Athletes need sturdier and tougher cases that can protect their device during outdoor adventures. The award-winning and sporty cases we mentioned above are highly durable and reliable with proven performance and rugged designs. With SUPCASE by your side, your phones are sure to always stay protected from the unexpected.
---
600 comments
---
---